Outsourcing a web design service is the best way to ensure that your website will represent your business in the best possible. Web design agencies always know how to make your product stand out. In addition, these agencies can also guide you through the entire process to operate and maintain a website.
Using Wix, WordPress, Shopify with a free template can be an easy way to build a website. However, to have a website that works well and optimizes the user experience, hiring a web design agency is still the best option for business
Why should you outsource web design services?
Saving on cost
To build a professional web design team you have to spend a lot of resources. Currently, the salary for a designer is not low. In addition, you need to be fully equipped with computers and related equipment. On the other hand, designing a website not only need a designer but also needs developers and other functional teams. Therefore, to be able to build a website, you need to spend a big amount of money.
Shortening time
In addition to the expense that you have to spend to build a professional team, you also need to spend more time training staff. Add to that, it takes time for members to get to know the company culture and the working process. Therefore, hiring website design agencies is an optimal choice if you do not want to waste your time.
Quality assurance
Certainly, when hiring staff, the most important thing is the efficiency of their work. And this can be a risk for you when spending a lot of money for low quality work
To avoid losing money, you can outsource design services to visualize your website. The product quality can be assured because it is committed through the contract.
In addition, hiring a good designer and developer is difficult, retaining them is even harder because of many factors such as salary, environment and culture of the company. With outsourcing web design services, you will completely eliminate these anxieties.
Best web design agencies to work with
After understanding the great benefits of outsourcing web design service, now let's take a look at the top best web design agencies today:
Enosta 
Starting as an IT company, Enosta provides design and development services to help your website become the most perfect version. Currently, Enosta is on the top 3 Design Agencies in Viet Nam based on Clutch. Together with highly specialized staff, Enosta can completely create a website that is unique and fits all your requirements. In addition, you can also choose additional solutions to boost your performance such as SEO, UX Writing and Content. Not only that, Enosta can provide you with services such as Branding, Product Design, and Product Launch. All are available at Enosta!
Website: https://enosta.com
Work: Enosta's Work
Location: Melbourne – Australia, Danang – Vietnam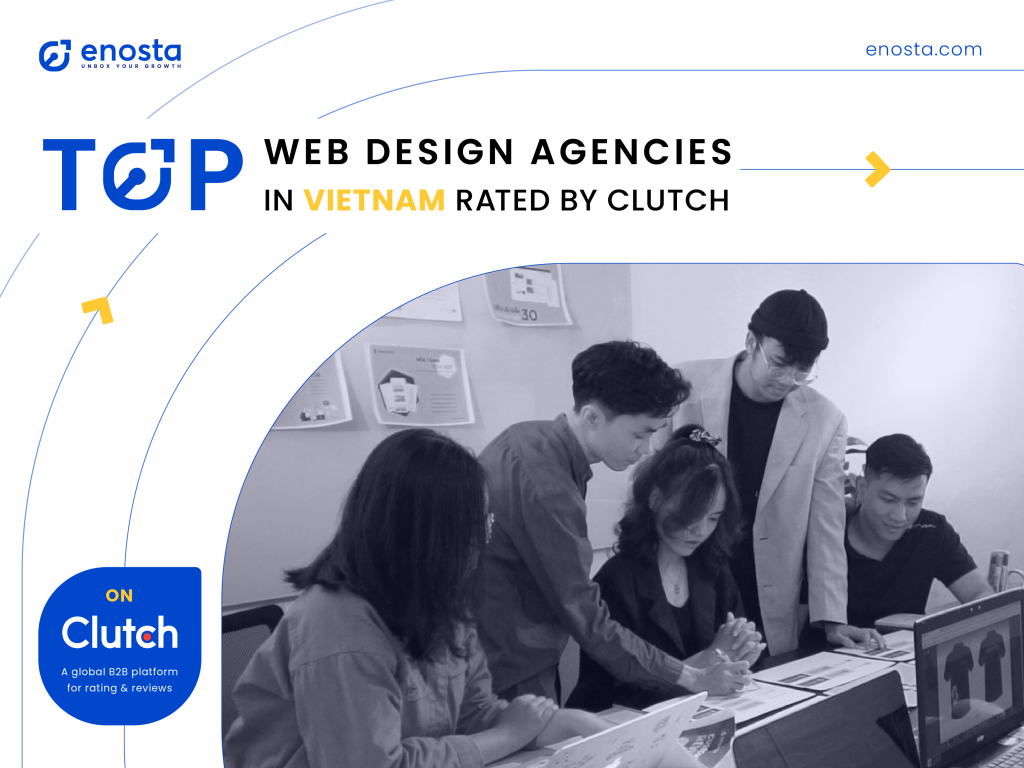 Chromatix
Chromatix is a website design in Melbourne. Chromatix has won many awards for web design outsourcing. With more than 10 years of experience and highly qualified staff, Chromatix provides services such as Website Design & Development, Web Tools & Web Applications, Interactive Design & Development, Conversion Strategies. If you are looking for a company to design a website for your business, this is not a bad idea.
Luminary
Luminary is based in Australia, and is one of a famous companies with a long history. They offer a wide range of services from digital transformation and user experience design to digital marketing and managed cloud services.
Alternatively, you can access Luminary's website – It's really cool! The homepage of the Luminary website is full of colors and bright dots. This is also a way to retain customers and make them more interact on Luminary's website
Butterfly
Based in Melbourne, Butterfly has won some awards and has partnered with many major organizations in Australia. Some of the fields in which this agency typically operates are education, healthcare, and non-profit activities. Butterfly provides clients with services such as web design and development, mobile app development, and UX/UI design.
WEBO Digital
Founded in Western, WEBO Digital helps transform brands into market-leading by using strategy, data, commerce, and technology to build customer experiences. Webo Digital provides services such as web design & development, mobile apps, branding, and software development.
Conclusion
To choose a suitable agency, you need to have a deep understanding of your business as budget, resources and other elements. Think carefully before choosing an agency to work with.
As an agency with extensive experience working with SMEs, Enosta understands the problems your business is facing. Therefore, we provide you with a comprehensive solution to solve all the above problems.